Getting Started with MonsoonSIM
Who Should Run MonsoonSIM?
The MonsoonSIM business simulation and gamification education platform can be a powerful and effective learning tool and medium in the right hands of facilitators.
Though everyone can run MonsoonSIM, given its intuitive and convenient user interface and layout, we are especially useful if your goals are:
To enable your students to undergo experiential learning
To have an engaged group of students
To let your students know why what they are learning is important for operating a business
To have your students gain working skills such as collaboration, communication and data, and more!
In this article we will provide you with everything you need to know about how to get started with MonsoonSIM. We will introduce you to our events and also provide plenty of options to contact with the MonsoonSIM team directly.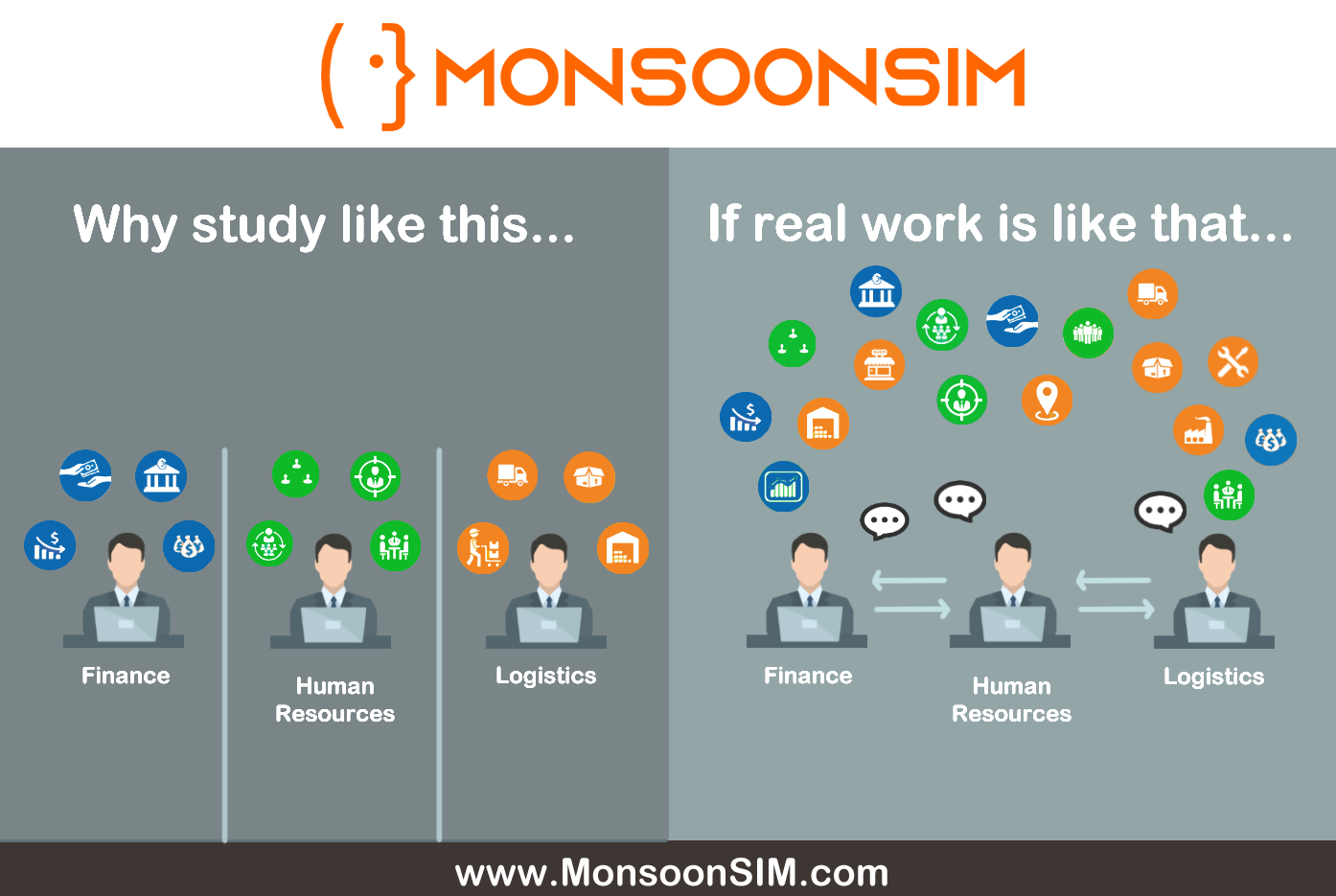 The Why & What of MonsoonSIM
MonsoonSIM is a unique pedagogy combining simulation and gamification. It focuses on a specific subject: business studies. MonsoonSIM allows students to participate in advanced, AI-powered business simulations that faithfully replicate the environments and challenges faced "out there" in today's businesses.
There are multiple verticals and industries on which students can concentrate, including the service industry, management, supply chain, and many more. The platform gamifies everyday business practices, enabling students to work alone or in teams with other students as virtual work colleagues. Together, they make decisions and see where those decisions may take them.
If the things above align with your personal goals as teachers and educators, then it's time to delve deeper into MonsoonSIM! In the videos below we will show you how you can facilitate MonsoonSIM games so your students will learn by doing! These videos will help you generate some ideas of how to implement MonsoonSIM into your classroom.
Get to know us better by watching our introductory videos below
What is MonsoonSIM



This video outlines what MonsoonSIM is. This shows our "horizontal learning model," business students can learn core Business subjects such as Accounting, Management, and Entrepreneurship through a business context.

Enhance your business school curriculum with gamification and simulation



Teachers can now set up and enhance their curriculum in the form of business games and simulations. This Video outlines the data-driven learning model, where students learn by conducting business transactions and reflecting on their choices.
Aside from providing an excellent learning platform, we are excellent for teachers as
MonsoonSIM is easy to learn - We are able to teach the team of faculty or teachers in one day
To have an engaged group of students
MonsoonSIM is excellent for grading - MonsoonSIM makes it easy to track student's progress there's an extensive back end where they can plan and oversee lessons and results
MonsoonSIM is flexible - As a teacher you are able to configure the MonsoonSIM simulation to your learning outcomes while adding fun to your curriculum
Ready to reach us?
Here are a few ways to reach connect with us.
Join Our Workshops & Events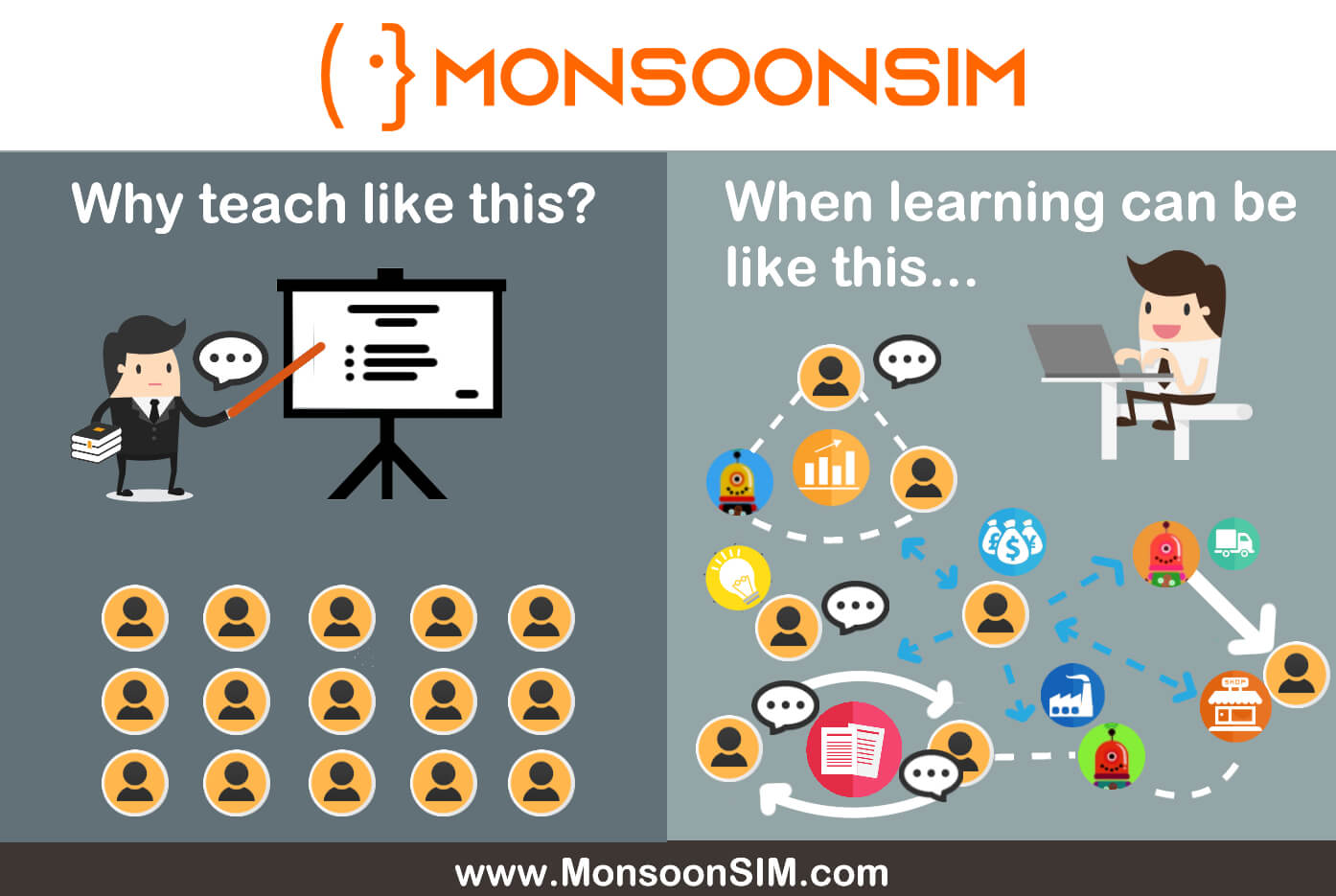 Now that you've got a glimpse of MonsoonSIM, does this pique your curiosity?
Do you wonder how our business simulation platform can be integrated into your curriculum and enhance education?
Find out more about us through our workshops and events!
In our Webinar events we cover our latest collaborations with fellow Academics who want to share insights relevant to MonsoonSIM
Here are some of our previous Webinars with Educators
In our monthly workshops our dedicated team will let provide you with an account so you can try out the MonsoonSIM platform, while being guided by our product team. You as a workshop participant are able to operate your own virtual business and discover some of the MonsoonSIM departments that you can configure.
Concepts we often cover in our workshops include:
Finance



Cover basic accounting concepts, key financial reports, and how finance as a whole integrates with other modules!

Retail Sales



Learn about replenishment, storage capacity and its interconnected role with marketing, finance and logistics!

Procurement



Experience firsthand about purchase requisition, how to execute purchase orders, approvals, and how Finance plays a vital role in procurement!

Marketing



Discover marketing promotions, calculate marketing ROIs to its effect on sales, finance and sales

Forecasting/Planning



Plan out future actions and make informed decisions based on the available data. Here you are able to observe future retail forecast, wholesales forecast, currency forecast or more!

Warehouse/Logistic



Discover the concepts of storage capacity, replenishment, shipping lead time and how the entire logistical process works!

B2B/Wholesales



Bidding, late delivery penalties, sales order and tracking as well as stock allocation are just a few of the many concepts that are encompassed within the simulation!
There are certainly many other business concepts and departments covered by MonsoonSIM, but these seven are a good start to finding out how the business simulation runs and how it adds value to students' learning experience.
Most importantly, there is no prerequisite to joining a MonsoonSIM workshop. All that's needed is a laptop with wi-fi access and you're all set to begin your journey with MonsoonSIM!
Specialized 1-on-1 Discussion
If you are ready to have a one-on-one discussion with us, please click this link here
We can set a specialized 1-on-1 discussion with each other to work out the specifics.
How exactly would MonsoonSIM fit into your particular curriculum and teaching structure?
How can we help you enrich your classroom teachings with experiential learning and the integrative horizontal learning model?
What other student needs are you considering or what other concerns do you have with our future collaboration?
We can discuss all that and more during this introductory meeting!
What if I want to get started?
1-Day Free Training with Business Faculty
Let's assume you've decided that you're ready to implement MonsoonSIM into your curriculum. The next step is naturally free training. After the introductory meeting where we discuss the details, perhaps you'd like to see a practical demonstration that's particularly relevant to your teachings or personally acquaint yourselves further with our platform? Just email any MonsoonSIM team member and we will arrange a one-day free training session with you.
What better way to begin than to assimilate yourselves into this modern teaching role of a facilitator?
With how intuitive and user-friendly the MonsoonSIM platform is, a 1-day free training is all you'll need to become an expert facilitator ready to configure the simulation for your class in no time!
Some valuable learnings from our Facilitator Certification session:
How to create, run, start, stop a simulation session/game
How to set up teams
How to configure the business environment
How to enroll and un-enroll learners into the teams
How to save sessions
How to use Micro course
How to set up KPIs targets
How to set up the scoring matrix
How to set up data analytics access
Special login and authority to create a game, and access to resources
You can find out more information about our 1-day training by clicking here
1-Month Trial
Perhaps by this point you're already convinced of the benefits of MonsoonSIM for your teachings, but what about your students?
They are the ones who will use the MonsoonSIM platform, after all.
Perhaps your students would also like a practical demonstration and experience for themselves how it would feel to have MonsoonSIM integrated into their own curriculum?
Never fear, MonsoonSIM has got you covered!
We offer a 1-month free trial for you and your class, so feel free to explore together the business concepts covered in your classroom through the MonsoonSIM business simulation and gamification platform.
In the trial we will provide you with all the support you need, such as in-built guides, email and live conversations. We will do our best to ensure that your MonsoonSIM classroom experience is as great as you could imagine.
By the end of the trial, we hope that you and your students find MonsoonSIM a satisfactory fit and valuable addition to support the educational experience. If so, then although we may have reached the end of your trial, we are, in fact, just at the very beginning of your classroom's MonsoonSIM journey!
What Now?
Well, you're already at the right step after reading this article, so you'll know what comes next. We here at MonsoonSIM welcome you to our upcoming workshops and events, and can't wait to see you there! If you have any questions please feel free to contact us at info@monsoonsim.com

1